euphonious_13
Hello Everyone!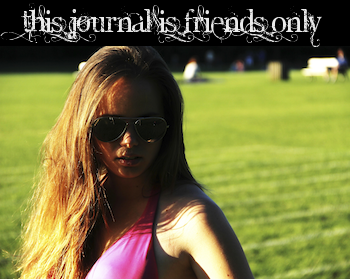 Comment here with the following if you would like to be friends! I am willing to try to be friends with most everyone. Below the cut is a breakdown of my attitudes/how my journal works. Please have a look and make sure to comment here!





My posting style:
I post as frequently as I can. I try very hard not to do more than one post a day (unless it is one general post and then a filter post or two). My posts are structured and I try to keep them a moderate length. I also try to incorporate at least one image/poll/somethingnotwordy in every entry. My posts tend to give a breakdown of what's going on in my life almost always. I try
very
hard to make my journal interactive and to encourage discussions by asking for opinions/questions/advice/etc.
As for my filters, well, once I add you as a friend, I will ask you to fill out my filter poll so that you can decide what topics you'd like to avoid/entertain. My most used are my fitness and Bertie (my boyfriend) filters, but fitness is by far most common.
What you can expect from me as a friend
: I strive to read
every
entry. I track all of my mutual friends so you (shouldn't) get lost in the crazy. I comment on the majority of your entries, but we all have those days where we don't feel like it/don't have anything to say. Still, I will be active. If you want to IM/email/communicate outside of LJ, I am there.
What I expect from you:
Try to be a friend. Comment as often as you can and just make an effort is all I ask. I don't have quotas or anything and I do halfhearted cuts maybe twice a year. Also, be open minded.
My journal is drama free
. This means, I don't talk shit about you on a filter or in a community and I expect the same from you. If you do talk about other LJers, by name or anonymously, we will have problems. Keep your drama to yourself, please.